2012 was a positive, eventful year for our company. We again enjoyed strong performances across our core businesses, driven by their strengths to serve and satisfy our consumers' needs, to generate new avenues for growth, and to profitably convert complexity into opportunity. In addition, through our 20% economic interest in Heineken, we continued to benefit from the positive evolution of our investment as the company again made great progress in the execution of its global strategy. Through its consolidation of Asia Pacific Breweries, Heineken becomes an even more diversified global brewer, with an increasing presence in fast growing markets.
As a consequence of such concerted efforts, we produced solid financial results. For the full year, FEMSA's total revenues rose 18.2% to Ps. 238.3 billion (US$ 18.4 billion). Our income from operations grew 19.4% to Ps. 29.2 billion (US$ 2.3 billion). Our net income increased 34.2% to Ps. 28.1 billion (US$ 2.2 billion), and our earnings per unit were Ps. 5.79 (US$4.46 per ADR).
Since we at FEMSA have always focused on the long-term creation of sustainable economic, social, and environmental value, usually, the more immediate measurable metrics—such as our share price—are consequences that tend to take care of themselves in the long run. We understand that there are many complex factors that impact such metrics. However, it was encouraging to see a broadly positive performance from our shares during 2012, reflecting a constructive view from the markets regarding our performance and, more importantly, our opportunities that lie ahead. Furthermore, the flexibility of our balance sheet and our businesses' healthy cash generation again put us in a position to increase the amount of cash returned to our shareholders through our ordinary dividend. During 2013, we intend to pay ordinary dividends of Ps. 6.7 billion, representing an increase of 7.8% over the dividend paid in the prior year and 45.3% over the dividend paid in 2011.
Let me now briefly review some of the year's highlights for our businesses.


In the face of a tough commodity cost and volatile currency environment throughout much of the year, Coca-Cola FEMSA's balanced portfolio of franchise territories across Latin America delivered double-digit top- and bottom-line growth. Benefiting from its integration of the beverage operations of Grupo Tampico, Grupo CIMSA, and Grupo Fomento Queretano, Coca-Cola FEMSA's total revenues rose 19.9% to Ps. 147.8 billion. Gross profit increased 21.4% to Ps. 68.6 billion, and income from operations increased 19.4% to Ps. 22.0 billion.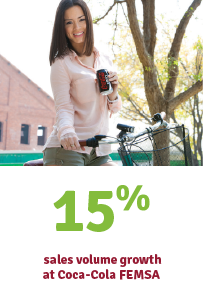 Coca-Cola FEMSA leveraged its financial and operating flexibility, as well as the standardization of its manufacturing, commercial, and logistics processes, to firmly advance on its strategy to grow through accretive mergers and acquisitions—from the integration of its three recently merged franchises, to its incursion into the Philippines through the acquisition of a majority stake in Coca-Cola Bottlers Philippines, Inc. (CCBPI), to its latest announced merger agreement with Grupo Yoli in the Mexican state of Guerrero. Altogether, this marks five transactions in the Coca-Cola bottling space in the last 18 months, representing an aggregate value of more than US$3.5 billion.
In a matter of months, Coca-Cola FEMSA's talented team of professionals worked closely with their new colleagues to swiftly and smoothly integrate the recently merged franchise territories of Grupo Tampico, Grupo CIMSA, and Grupo Fomento Queretano —three of the most prominent and respected, family-owned Coca-Cola bottling operations in Mexico. As part of the integration process, the team rolled out its value-driven commercial model; significantly increased the placement of new coolers in the market; implemented revenue management initiatives; launched the popular Sidral Mundet brand of apple-flavored sparkling beverages; and re-launched relevant local flavored sparkling beverage brands. Together, they accomplished all of this while restructuring the manufacturing and distribution network to further improve the efficiency of these new territories. Indeed, as a result of these efforts, targeted synergies increased from Ps. 800 million to Ps. 900 million.
As with every integration that this team has undertaken, we know that the migration of talent and the cross-fertilization of best practices are key ingredients to success. This was no different with these territories, as many of the talented executives of the merged franchises now occupy pertinent positions in Coca-Cola FEMSA's existing territories. Moreover, in terms of best practices, Grupo CIMSA, along with Grupo Tampico, have each developed vast experience with home delivery routes in connection with their large and profitable jug water businesses. Additionally, Grupo Fomento Queretano has achieved a prominent market share and high per capita consumption as a result of their effective execution at the point of sale. Clearly, their combined expertise will help Coca-Cola FEMSA to reach consumers more efficiently and effectively with our multi-category portfolio of products.
For a long time, Coca-Cola FEMSA has prepared itself to pursue opportunities beyond Latin America, developing and institutionalizing processes, and building a deep bench of talent—always reinventing itself to do what it does, only better. Accordingly, extending our rich history of successful value-creating transactions with our partner, The Coca-Cola Company, in January 2013, Coca-Cola FEMSA closed the acquisition of 51% of Coca-Cola Bottlers Philippines, Inc. (CCBPI), The Coca-Cola Company's bottling operations in the Philippines. The first incursion of a Latin American bottler outside of the region, this milestone transaction represents an important strategic expansion of our company's bottling footprint beyond Latin America—reinforcing our exposure to fast growing economies and our commitment to the Coca-Cola system.
The Philippines provides a unique opportunity to operate in a country with very promising economic growth prospects, a private consumption-driven economy, an attractive socio-economic and demographic profile, and a cultural and structural resemblance to many Latin American territories. In fact, the Philippines features one of the highest per capita consumption rates of Coca-Cola products in Southeast Asia; however, when compared with the per capita consumption of Coca-Cola FEMSA's products in Latin America, the market offers significant opportunities for further growth.
Moreover, the Philippines plays to our company's strengths. The country's fast-growing non-alcoholic beverage industry and complex retail landscape will enable our team to leverage its proven know-how and operating expertise to generate revenue growth opportunities and important operating efficiencies. From our world-class point-of-sale execution, to our value-driven commercial model, to our continuous investment in our most important asset—our people—we welcome the prospect of learning and sharing new capabilities to grow, together with our communities. As in our foremost franchise territory, we will put forth our best effort to improve and perform in this new market.
As we take the first steps to build a broader emerging-market footprint, we remain focused on the set of opportunities that Latin America presents. With this in mind, in January 2013, Coca-Cola FEMSA reached an agreement with Grupo Yoli to merge their bottling operations. Once again, our team joins forces with one of the oldest and most respected family-owned Coca-Cola bottlers in Mexico, with whom we share an aligned entrepreneurial vision and values. Together, we will capitalize on the geographic proximity of the operations' contiguous territories, the mutual benefit of shared best practices, and the broad consumer appeal of our integrated multi-category portfolio of beverages to create value for all of our stakeholders.
Furthermore, in addition to our dairy operations in Panama, we entered the Mexican milk and value-added dairy segment through the joint acquisition of Santa Clara with our partner, The Coca-Cola Company, and the rest of the Coca-Cola bottlers in Mexico. This transaction will enable us to broaden our knowledge and increase our presence in this category.
In this way, Coca-Cola FEMSA's footprint continues to grow in geographies that fit well with our skill set, no matter on what side of the ocean they may be. Its portfolio keeps growing as well, as we advance our multi-category strategy across markets—learning about dairy today, as we learned about juices some years ago. We are enticed by the opportunities and the road ahead.