In a generally positive macroeconomic environment, FEMSA Comercio produced another year of excellent results. Total revenues rose 16.6% to Ps. 86.4 billion. Our increased revenues came from our continued store expansion and our healthy comparable same-store sales growth—reflecting improvement in both our average customer ticket and our store traffic. For the year, our same-store sales growth outperformed the market trend, reinforcing our position as an industry benchmark.
Gross profit grew 18.7% to Ps. 30.2 billion, resulting in a 60 basis point gross margin expansion to 35.0% of total revenues. Our expansion in gross margin largely resulted from our effective revenue management, our positive collaboration with our key supplier partners—combined with a more efficient use of promotion-related marketing resources—and our improved mix of higher margin products and services.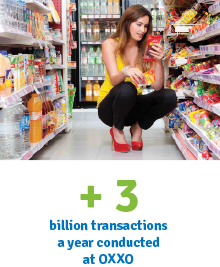 Income from operations increased 22.7% to Ps. 6.8 billion. Our higher operating expenses reflect our growing number of stores, our continued strengthening of FEMSA Comercio's organizational structure, and our development of specialized distribution routes to enable our prepared food initiatives. For the year, our operating margin expanded 30 basis points to 7.8% of total revenues.


At OXXO, we continue to implement and develop our new commercial strategy, a framework focused on targeting, understanding, and fulfilling the primary reasons that consumers visit OXXO. Specifically, we have identified our key consumer needs as: thirst, craving, time optimization, hunger, gathering, daily, and replenishment. Through our ongoing analysis and satisfaction of these core consumption occasions, we continually expand and enhance our value proposition to more effectively draw shoppers to our stores, attracted by an ever-increasing array of quality products and services.
Among our initiatives, we continue to broaden the scope of our convenient one-stop services. To further optimize our consumers' time, we now offer OXXO shoppers the ability to purchase and replenish cards for travel on public bus networks in 10 major metropolitan areas. Moreover, our markedly expanded correspondent bank program with Mexico's two largest financial institutions, enables customers to make cash deposits to their bank accounts and payments toward the balance of their bank credit cards at anyone of OXXO's stores across the country. Gradually, consumers are adopting this new functionality, and we look forward to eventually expanding this program to every bank in Mexico, particularly since the number of our OXXO stores is already comparable to the total number of branches of the 10 largest banks in the country.
Additionally, to more effectively satisfy our consumers' hunger, we continue developing a system of specialized distribution routes to deliver prepared foods to our stores fresh daily. Already covering two thirds of our OXXO stores across Mexico, these routes use a refrigerated fleet of dedicated smaller trucks that can transport and deliver food at controlled temperature and visit over 6,000 stores at least three times a week. Through this initiative, combined with our systematic progress along the entire prepared food supply chain, we are only beginning to unlock the potential of this promising consumption occasion.
Furthermore, we recently launched a new private label brand of high-quality snacks, candy, and baked goods called Bitz to indulge our shoppers' cravings. This new brand, together with our broad selection of private label offerings, complements our existing assortment of leading product brands, featuring attributes that our consumers can only find at OXXO. To this end, we offer a selection of private brand staples—from canned vegetables, milk, and beans to diapers, detergent, and toilet paper—at highly competitive prices to replenish and fulfill our shoppers' daily requirements.
By efficiently and reliably serving and satisfying their needs, OXXO is increasingly a part of the lives of consumers across Mexico. The myriad transactions carried out at OXXO—more than 8 million a day and more than 3 billion a year—means that the chain continues to secure its position as the preeminent choice for shoppers throughout the country.