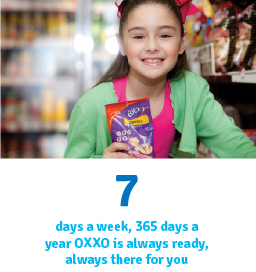 2012 was another very strong year for our same-store sales growth, increasing an average of 7.7% compared with the prior year. Our progress in mapping and understanding consumers' needs and enhancing our value proposition to better fulfill those needs significantly contributed to our same-store sales. Moreover, we achieved a healthy balance between store traffic and average customer ticket, which both improved 3.8% for the year.
Our stores' performance—which continued to exceed the long-term trend—also benefited from the closer logistics support offered by our addition of two new distribution centers for a total of 15 across Mexico. The growth in our distribution centers brings them nearer to our stores, enabling us to increase the frequency of our centers' store visits and the quantity and variety of SKUs available at our stores. This, in turn, drives greater sales growth by allowing us to enhance our product offering to stimulate and satisfy our consumers' needs.
In addition to our same-store sales growth, we continued to build on our leadership position as the largest and fastest growing small-format store chain in Latin America. In 2012, we surpassed the 10,000-store mark, opening 1,040 new stores for a total of 10,601. We also continued to make progress in Colombia, where we continue advancing toward the right value proposition for our stores by adjusting and testing such variables as size, format, layout, location, and assortment. As we steadily advance our understanding of this promising market, we are incrementally expanding our network of stores in the capital city of Bogota, from 21 at the end of 2011 to 34 at the end of 2012.
Beyond the pursuit of geographical growth exemplified by our efforts in Colombia, in 2012, FEMSA Comercio took an important first step in a parallel, complementary avenue for growth that aims to leverage our capability and our platform across formats rather than across countries. In our view, the combination of similar small-box store formats and a similarly fragmented industry structure, coupled with the considerable, transferable skills we have built managing OXXO's progress over the years, represents a very compelling opportunity set. To this end, we agreed to acquire a 75% stake in Farmacias YZA, a leading drugstore operator in southeast Mexico, with 333 stores in five states. We believe that we can contribute our significant expertise in the development of small-box retail formats to what is already a successful regional player in this industry. We expect this transaction to close during the first quarter of 2013.